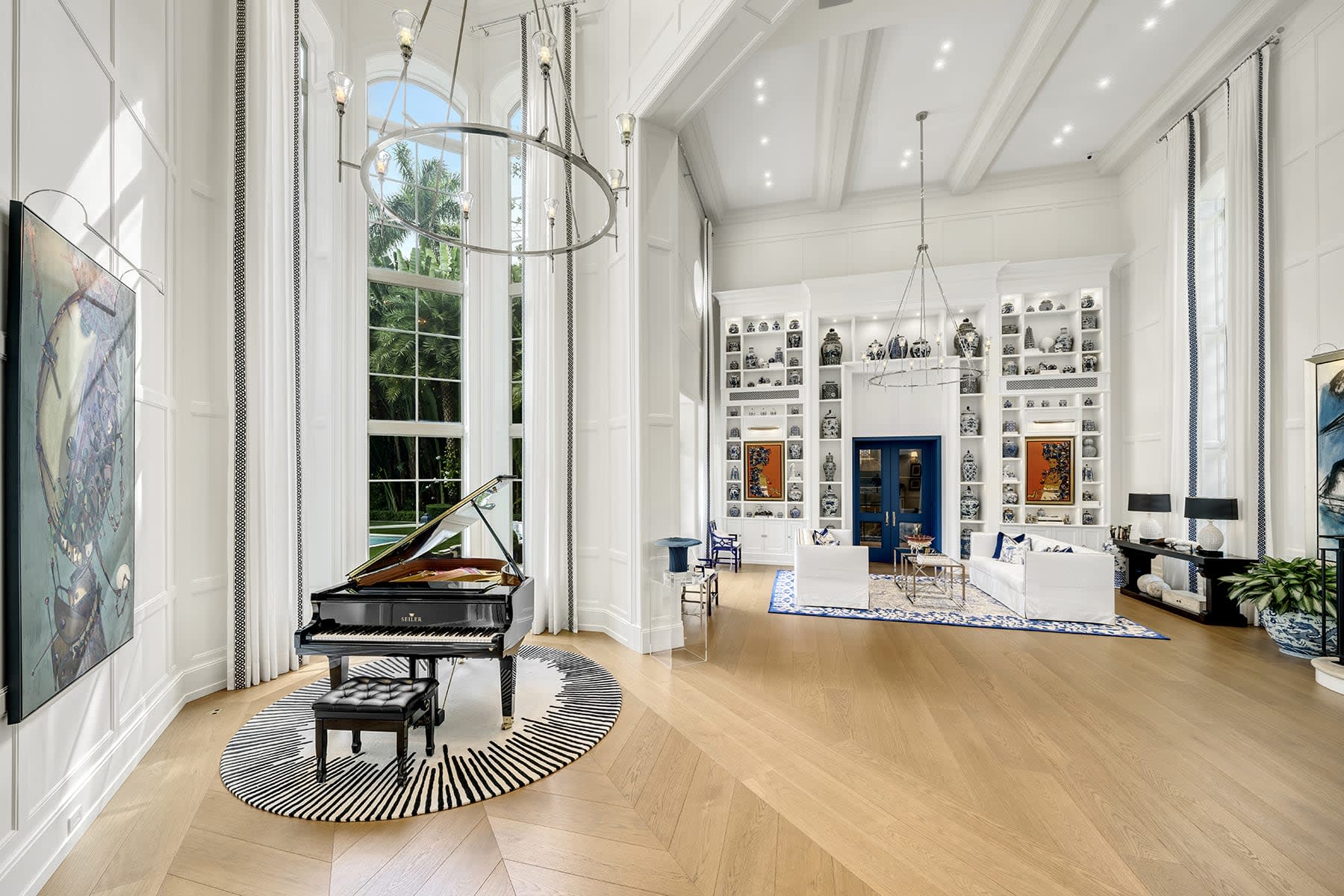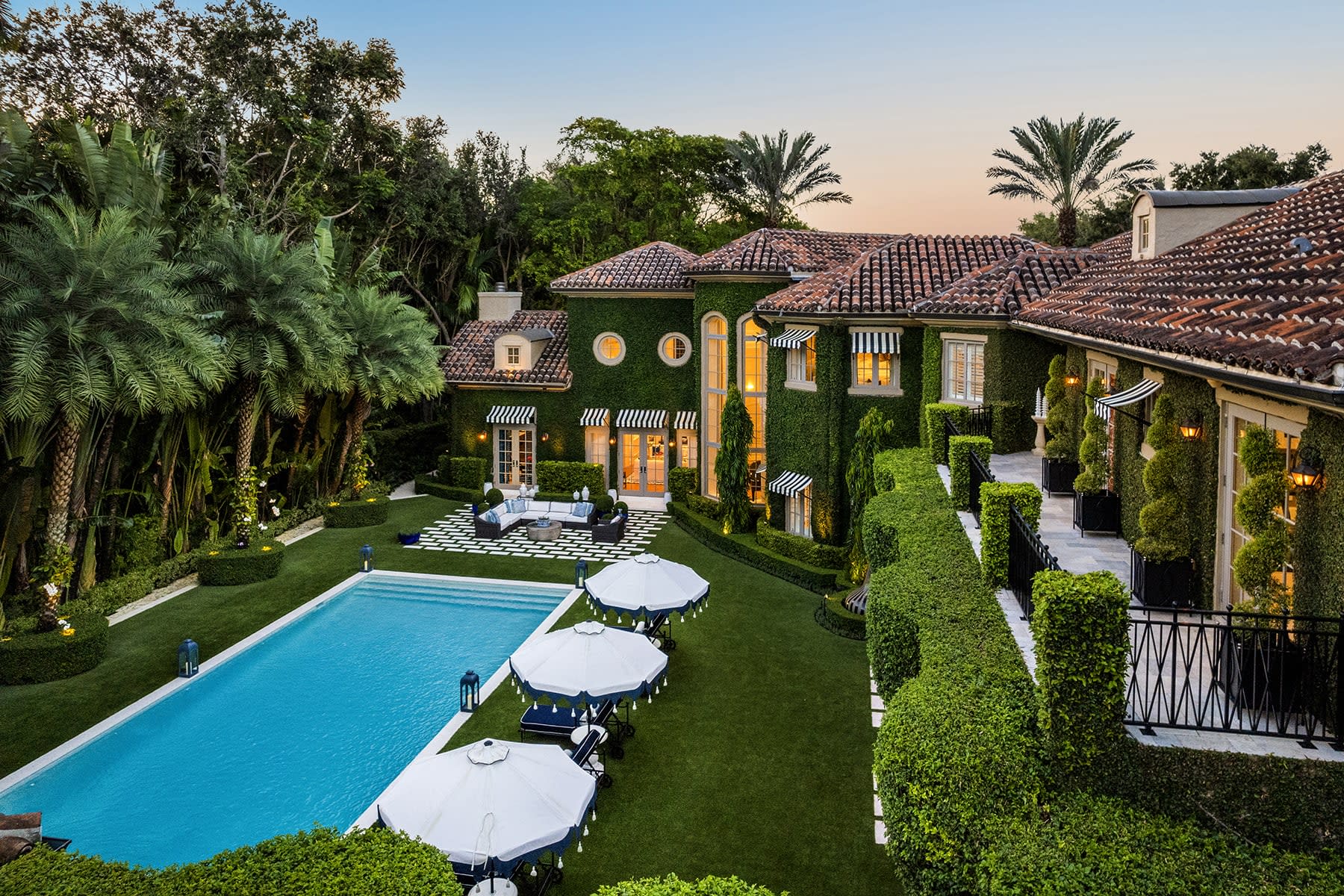 The Ivy House stands as a testament to timeless grandeur in the prestigious Ponce Davis area. This meticulously renovated residence at 5050 Pine Drive, boasting 6 bedrooms, 7 bathrooms, and 9,839 square feet of interior space, is a true embodiment of architectural excellence and contemporary refinement. Resting on nearly an acre of pristine land in the heart of one of Florida's most sought-after neighborhoods, this home seamlessly melds classic elegance with modern sophistication, creating a masterpiece that's truly exceptional.
A Grand Entrance
As you step through the front door, you'll be greeted by a grand foyer flooded with natural light from expansive windows. This inviting space sets the tone for the entire home, where every detail has been carefully curated to create an ambiance of timeless luxury.
Intimate Spaces for Every Occasion
The main level of this exquisite residence offers a variety of intimate spaces, each designed with a specific purpose in mind. You'll find a cozy study with a fireplace, perfect for unwinding with a good book or hosting important meetings. A formal dining area provides an elegant setting for special occasions, while a well-appointed wet bar ensures that your guests' every need is catered to.
A Culinary Haven
The heart of this home is undoubtedly the gourmet kitchen, complete with a stunning marble island. Here, culinary enthusiasts will find their haven, while a separate staff's kitchen with a butler's pantry, featuring top-of-the-line Miele, Wolf, and Subzero appliances, ensures that every meal is prepared to perfection. The adjacent breakfast area overlooks a spacious family room, making it the ideal spot for casual gatherings.
For Wine Connoisseurs and Movie Buffs
Wine enthusiasts will appreciate the dedicated wine room, complete with a wet bar and ample storage for your prized collection. And for those who love cinematic experiences, a dedicated media room awaits, promising endless entertainment possibilities.
An Elegant Retreat
A graceful spiral staircase leads to the master suite, a true sanctuary within this luxurious abode. The master suite features his-and-her boutique walk-in closets and an indulgent marble-clad bathroom with a floating tub and bespoke vanities, creating a spa-like atmosphere for relaxation.
An Outdoor Paradise
The outdoor area of this property is nothing short of a serene luxury resort-style retreat. A stunning pool and spa take center stage, surrounded by covered terraces equipped with a summer kitchen, ideal for al-fresco dining and entertaining. Additional touches include a cabana bath and steam shower, enveloped in opulence. A surround sound system further enhances the sensory experience, turning your outdoor gatherings into unforgettable moments.
Modern Comforts and Security
This home is equipped with modern amenities to enhance your comfort and security. A smart-house system allows for effortless control of various features, while an elevator adds convenience to your daily life. A robust 100-Kilowatt house generator ensures uninterrupted power supply. Security is paramount, with a network of cameras and indoor and outdoor alarm systems.
Ample Parking and Accessible Luxury
For the car enthusiast, this property includes both a spacious 2-car garage and an additional 1-car garage, both designed for comfort. This residence truly embodies accessible luxury in an elegant setting, where every detail has been thoughtfully considered to provide the ultimate living experience.
Don't miss the opportunity to make this extraordinary property your own. Contact us today to schedule a private tour and experience the timeless luxury of 5050 Pine Drive in the heart of Ponce Davis.
Ponce Davis is a coveted neighborhood that gracefully sits at the intersection of Coral Gables, South Miami, and Pinecrest in beautiful South Florida. This prime location offers residents the best of all worlds, with easy access to the vibrant cultural scene and upscale shopping in Coral Gables, the lush greenery and suburban charm of Pinecrest, and the dynamic city life of South Miami. Nestled in this central oasis, Ponce Davis boasts a serene and upscale atmosphere, making it an ideal destination for those seeking a luxurious and well-connected lifestyle in the Miami metropolitan area.
For more information contact:
Michael Martinez
305.979.9367